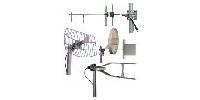 Titanium Mirror offers several product configurations that can be used as components in highly available Wireless Internet Service Provider (WISP) networks, campus wireless networks, business point-to-point wireless connections, or in-building wireless networks.
Titanium Mirror provides ruggedized and weatherproof outdoor enclosures for the TM0100 and TM0300 products. The outdoor enclosure provides high resistance to wind, weather, and animal damage. It's venturi design and onboard heater provide extended hot and cold operation with no additional moving parts. Thermal logic provides additional features, such as system pre-heat to operating temp range before power-on. The enclosure may be mast or wall mounted.

All Titanium Mirror products provide support for 802.11b/g radios and implement both AP and WDS feature sets. Depending upon the model, from one to eight radios can be installed. All radio configurations provide a standard antenna connector for connecting to a variety of antennas suitable for point-to-point and point-to-multipoint operation.

Additional features that support wireless configurations include: VPN-over-wireless, dynamic IP address assignment, radius integration, full QoS facilities, remote administration and over-the-air firmware upgrades, power over ethernet, and seamless support for load-balancing across upstream and wireless links.

Wireless solutions differ based upon the needs of the network. Please contact us today if you'd like to learn more about Titanium Mirror solutions and what applicability they may have to your network.