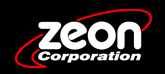 Zeon Corporation uses Titanium Mirror to connect their main office to the internet.

Zeon Corporation has been the national neon sign vendor for companies such as Subway, Mail Boxes Etc., Papa John's, T-Mobile, Coors and many others. They also offer a variety of quality signs for various retails applications direct to retailers.

Visit the Zeon Corporation website.